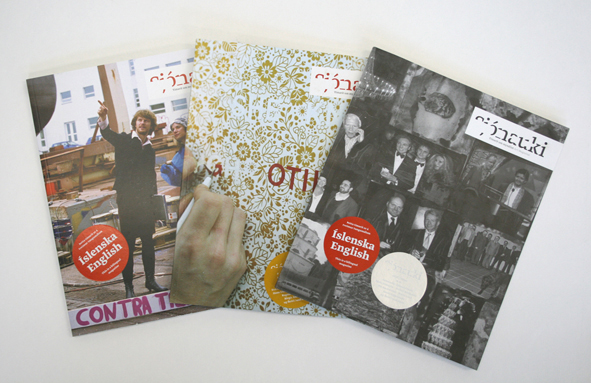 Sjónauki´s main focus was on the Icelandic contemporary art scene. Each issue featured an in-depth portrait of a selected artist and included a special editioned work as well as interviews, essays, reviews and columns by international artists, thinkers and curators.
Sjónauki was founded and edited by Karlotta Blöndal and Anna Júlía Fridbjörnsdóttir and ran between 2006–2009 with three published issues in Icelandic and English.
Sjónauki 1 Stofnun / Institution
Artist of the issue are Ólafur Ólafsson and Libia Castro. Other featured writers and artists: Copenhagen Free University, Claire Bishop, Pier Paolo Pasolini, Haraldur Jónsson, Haukur Már Helgason, Luca Frei among others.
Sjónauki 2 Ljóðræna / The lyrical
Artist of the issue is Guðný Rósa Ingimarsdóttir. Other featured writers and artists: Marita Muukkonen, Hans Ulrich Obrist, Karl Holmqvist, Sharon Hayes, Margrét Blöndal, Eva Heisler, Birgir Andrésson, Ragnar Kjartansson, Hreinn Friðfinnsson among others.
Sjónauki 3 Gildi / Value
Artist of the issue is Ásmundur Ásmundsson. Other featured writers and artists: Níels Hafstein, Eygló Harðardóttir, Walter Benjamin (text: Capitalism as Religion), Gauti Sigþórsson, Maria Lind, Fia Backström, Hlynur Hallsson among others. This issue was publised the same month as the great economic collapse in Iceland, it was printed in black and white and on news paper – paper.